Maldon chapel, Jones, Nolan, Martin, Harris
New family we found in Maldon, turned out they had word of wisdom issues and dropped us...
Thanks rachy!! :)
Hello!
Greetings from Norwich,
Sorry for the lack of updates lately, it has been a crazy time but I've been building myself up this week so here goes.
I received some great news on Saturday, Mani who we were teaching in Maldon made his date and was baptised by Bishop West this Saturday. I'm so happy for him and his family, they have had an amazing journey and I'm confident that his wife and daughter will be baptised soon. Mani is such a good man, he gave us a lift to the train station on moves day so we could say goodbye, which also meant I didn't have to carry my ever growing mess of luggage! It was Elder Martin's first baptism and Mani asked him to confirm him into the Church. Maldon haven't had a baptism for over a year, so hopefully this first one will have the effect we have prayed for and the ward will begin to grow.
J
Now over to Norwich, I LOVE IT HERE. It really is a challenging few days when moves come round, but the best medicine is to just get to work and that is what we have been doing. The first day was a sweet experience, me and Elder David met at the Hyde Park chapel and our first task was to plan a zone training. (Actually, the first task was to get lunch, oh how I have missed 'wasabi', I spent way too much on sushi that day, so good though) Being a zone leader definitely has a different feel to it. We were there for the new missionary meeting and as they were walking in Sister Jordan pointed us out to them and said 'here are our new zone leaders' and at that moment everything hit me. Just 9 months ago I was In their shoes not knowing exactly what I was doing, walking up the abundance of stairs in the chapel, noticing it's peculiar scent hitting my nostrils, being interviewed by President Jordan, sweating, thinking I knew everything I could ever learn about missionary work (after two weeks in a classroom), meeting new missionaries and still finding it weird being called 'Elder' and basking in the comfortable naivety of the adventure I was about to embark on, not for one second considering how hard, how great and how unbelievably, body checkingly, mind mangingly, spirit stretchingly real this 2 year sojourn in the England London Mission would be. I smiled and waved at them. We were asked by President to take some of them out finding on exhibition road, and I called on Elder Paul to say a prayer in the street for someone we were talking to, I thought It best for him to get the first one out of the way. We saw miracles in those few moments though, we managed to get four people into the visitors centre and one of them is now meeting regularly with missionaries. I know the Lord is eager to bless his new missionaries with faith building events.
Me and Elder David have been having a lot of fun, teaching a lot of people and talking to a lot of missionaries. I really loved my time as a district leader and I've been struggling getting out of district leader mode. It's hard moving to a new area into a new leadership position as previously I felt I had a hold on things, I knew the ward, I knew the area and I knew what to do. Now I feel like I don't know anything again and at the same time I feel the responsibility I have to the zone and I should be tip op and filled in on everything that's going on. I guess it will just take a little bit of time and I'll be fine and I have been assured by Elder David that this is normal.
Having a car is such a blessing, we can do so much more in a day however it means I can no longer go for the second helping at dinner appointments as I won't be walking it off! I forgot how much I have missed driving and listening to music. President told us he expects some quality singing from us and so we have taken time to turn up the volume and sing our hearts out whilst driving to each appointment. It's fun.
We had a great car miracle the other day, we were on our way to an appointment and Elder David suggested we go to the church and facebook for a few minutes. Whilst heading down the university road, we saw Cecilia; Cecilia was previously on date for this Saturday but has been in London, unable to meet. We wave at each other and then realise that this is our chance to make a miracle happen and respond to the Lords tender mercy, so we pelt down the road and find the nearest place the park, Jump out of the car and RUN! We were running for what seemed like an eternity, (she didn't know we were doing this), we finally caught her. She expressed her desire to still be baptised and that she knew she needed to come to church the next day. We set a date for this coming Saturday and taught her a little lesson on the commandments! BOOM! If you want to baptise people in England you have to be willing to run down the street to put them on date! We offered a very big prayer of gratitude after she
had left. I've never enjoyed running as much as I did that day.
Teaching lessons in homes has gotten very hard the past few days, we ask for the tv to be turned off but when the world cup is on that question just seems rude and utterly preposterous. People look at us like we have asked if we could have their new cat for dinner. I don't blame them though, I'm sure Heavenly Father is watching it; but only the Holland games ;). In a lesson Elder David said we need to pray, I felt otherwise for some reason and so we waited, minutes later the RVP wonder goal happened and the room turned into a Kenyan carnival. I put it down to my English football senses being a little more acute than my companions. We prayed as the half time whistle went and everyone was happy.
So in other news, last Monday I completed the Rubik's cube on my own for the first time in my life and I was flippin' well happy about it. For years I have stared at that colourful little cuboid, only to be baffled by its seemingly illogical dimensions and not really understanding the simple mechanics it operates on. Elder Martin taught me how and Elder Nolan went and did. I've just got to get my time down, I won' be winning any competitions at the moment.
Word on the street is that I have been summoned for Jury service and I hope so much that it is not for one of my old investigators. Crikey, it could be. Do you think a full-time missionary has ever declared 'Not Guilty' in a courtroom? It would be a very odd situation, I wouldn't be able to stop myself from trying to explain the steps of repentance to the rest of the group and testifying of the reality of Christ's atonement and that we should see this pending criminal as what he can become, not defining him by his or her past mistakes but making sure that they refine him and that through faith In Christ, Repentance of sins and Baptism this poor wretch can ultimately be cleansed from their past and begin to be sanctified by Gift of the Holy Ghost, continuing on until the end of this mortal sojourn, eventually returning to His glorious presence and enter in to His eternal rest.
The Gospel is good.
I love you all,
Hugs and Handshakes,
Elder Nolan
--
Elder Tobias Cristian Nolan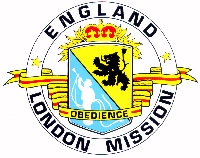 Sister Karyan's last day in chelmsford, we made a funeral service for her at our last district meeting, Dasvidanya! I think that is how you spell goodbye in russian... (she is armenian)
Me and Sister Hill (Maldon) she is so lovely!
Me and Jason ( Maldon) good kid, teaching him for a while.
​Dinner with David at our bolivian friends house, check the size of the bowl!
Me and Elder Martin moves day
Here's the evidence..
Me and Mani on moves day